CHILL PRIMO fellows(DJ TAKASHI, MOTOacce, E5, MAZEone)をはじめ、
いろいろと関わりの深いBONG BROSの1st Album"Virginal Discharge"がまもなく発売。
届いたサンプル音源の内容があまりにも良かったのもあって、こちら台湾でもフルプッシュでプロモートさせてもらっています。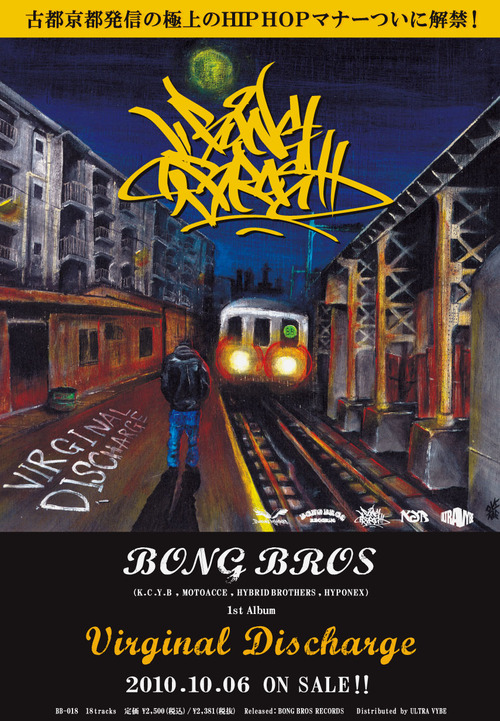 BONG BROS "VIRGINAL DISCHARGE" CM (Live Ver)
ARTIST : BONG BROS
TITLE : VIRGINAL DISCHARGE
RELEASE : 2010.10.6
CATALOG# : BB-018
PRICE : 2,381(Tax out) / 2,500(Tax in)
LABEL : BONG BROS RECORDS
DISTRIBUTION : ULTRA VIBE
古都京都発信の極上のHIPHOPマナーついに解禁!
京都、滋賀の同世代を中心としたMC(RACY,B-COSMO,TURKEY,小鉄,P.E,NAUGHTY DADDY,MOTOACCE,MOMIO,E5),DJ(DAN,TAKASHI,GAJIROH,MIYATEN,DAMBO,294),TRACK MAKER
(BoNTCH SWiNGA,M.A(ラッパー兼任),B-C(ラッパー兼任))達、総勢16名からなるHIPHOP集団"BONG BROS"が
シーン最前線へ投下する、クルー処女作。
現場で叩き上げ、築き上げた京都のぶれないHIPHOP感を詰め込んだ挨拶代わりの1枚。
挨拶代わりとはいうものの、個人的には既にクラシックないちまい。心身ともにおおきく縦に揺さぶられる作品です。
THANK YOU and CONGRATS, BONG BROS! !

BONG BROS "B.B ANTHEM" PV (Shoot&Edit by ILL PRIMO FILM)
Including one of my crew CHILL PRIMO fellows (MOTOacce, E5, DJ TAKASHI, MAZEone), the hiphop crew "BONG BROS" in Kyoto city (Japan) will release the 1st album "Virginal Discharge". This work is fully based on "hiphop" includes their lifestyle, their stance, and minds to rebel. Rappers still keep doing rap on the stage, street, and on the paper with the continues efforts and the minds for getting down of rhyming even for freestyle battles, in a way DJs keep digging and spinning vinyls, even though now is just the age that such style of music cannot easily exist. For sure, the all taste about sellout music (which I do not really like) are absent here, just the independent music with the polished skills and minds (which I adore) are down with. I mean, if you are also the one who is struggling for something you love especially on street, this album will blow your soul for real.
2010/09/28 | u-can